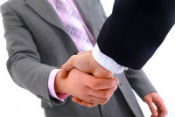 Openning an Account
To open an account with Global Logistics Network Sarl, and start using our services please:
Download our credit application form and complete the details,
Scan and email a copy of the completed form back to

This email address is being protected from spambots. You need JavaScript enabled to view it.

Send original copy of the form to the below address:


Global Logistics Network


1 rue Jean Mermoz,
AEROPARK - Bat. C1


95500 Gonesse




France
Scanning and emailing a copy of the completed form back to us will expedite the necessary credit control checks required before an account number can be associated to your application. Under normal circumstances, and based on a positive credit check confirmation, an account number can usually be associated to a new customer within two to three working days of receiving the application form.
As part of our credit approval process you will receive an email confirmation once the account is set up in our systems with the details of your account number, as well as the approved monthly credit limit level, and our bank payment details.
Our standard credit terms are net 15 days from invoicing date. Late payment can result in suspension of service or removal of credit approval. In the event of a customer's sales expenditure exceeding the approved monthly credit limit an advance payment may be requested to bring the current account balance in line with the approved credit limit.
In the process of requesting and opening an account with Global Logistics Network, it is understood that the applicant has read and agreed with our published Terms & Conditions.